So... many moons ago. And I mean many moons ago.
A running joke occurred on Twitter.
It may of also seeped on to the blog. (And for a trip down my childhood memory lane you can see said in- joke
here
.)
This running joke involved getting said Mr Button on Twitter.
Not Jenson. Oh no. But his Dad John.
Now sadly even after months of trying we are still nowhere in getting the plant hiding, drink loving and pink shirt wearing John on Twitter.
But something magical did occur from it.
F1 in pubs is pretty much what it says on the tin. It's watching Formula One. In a pub. In various locations.
And it's a great way of interacting with other F1 fans. Or it's just a great excuse to have several drinks and not have to pay the Sky fee. Either way I have been twice this year to the event in Birmingham and I always have so much fun, even if some of the races I went to wasn't the most exciting. Monaco and Monza anyone?
So for third time lucky. Me and some of the FanFormula gang decided to go to the Brazil F1 in Pubs. And we all decided months previously to dress up as someone we loved, admired and would happily go for a drink with anytime.
Yep. The one and only John Button. Or #JBAS as it was known on Twitter which stands for the 'John Button Appreciation Society' but that takes up too many characters on Twitter. So #JBAS it is.
Well the first now annual #JBAS meeting was a roaring success.
Mainly due in part to the mix of different colour hues of pink shirts and the difference in our F1 tastes.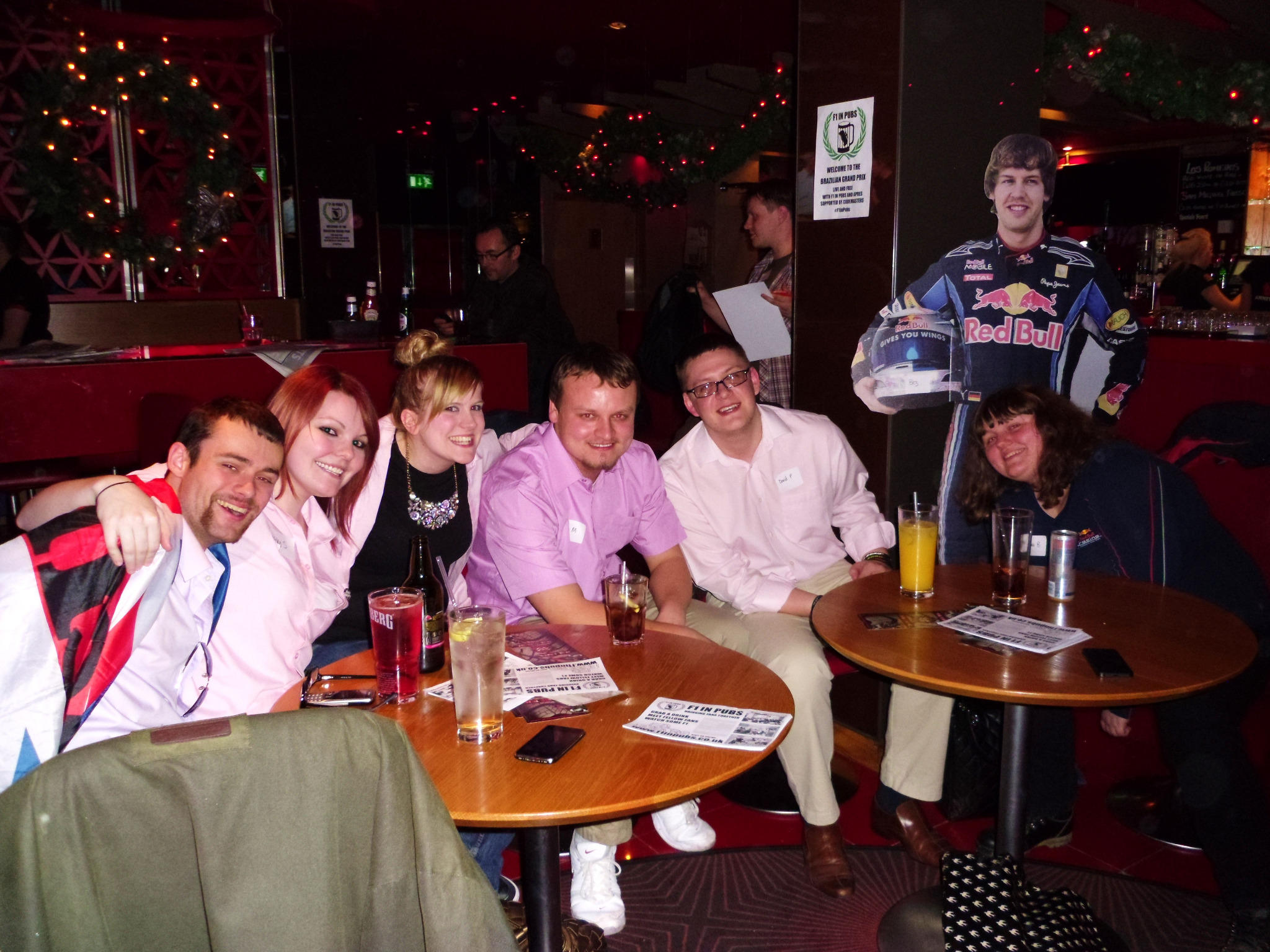 Dom @domcovkid, Vicky @F1_Obsessive, Me, Dean @DeanAJMaiden, David @PAIGE03, Ailish @AilishCatherine (Not pictured), BES (Cardboard Seb) and Emma @EmTheEmu
But what also made #JBAS so fun was the excitement that was of course BRASILILILIL.
Now whilst the race was on I did keep notes of what happened.
But I think you just need to read them in note form rather then in full.
Mainly for comedy amusement.
Bum pinching
Safety car
Vettel yellow flags issue
The I love Rob Smedley manly voice. (Yeah two weeks on. I still have no clue what I mean by this.)
Drinking and wee trips.
Perez Tooned.
Vettel spinning
Hulkenberg leading
Raikkonen overtake on the old man. (I of course meant Schumi.)
Kimi and the case of the long way round. A.K.A. The best moment EVER...
Hamilton out. LOL.
Button wins
Good times.
There was also some beautiful photos taken of the gang.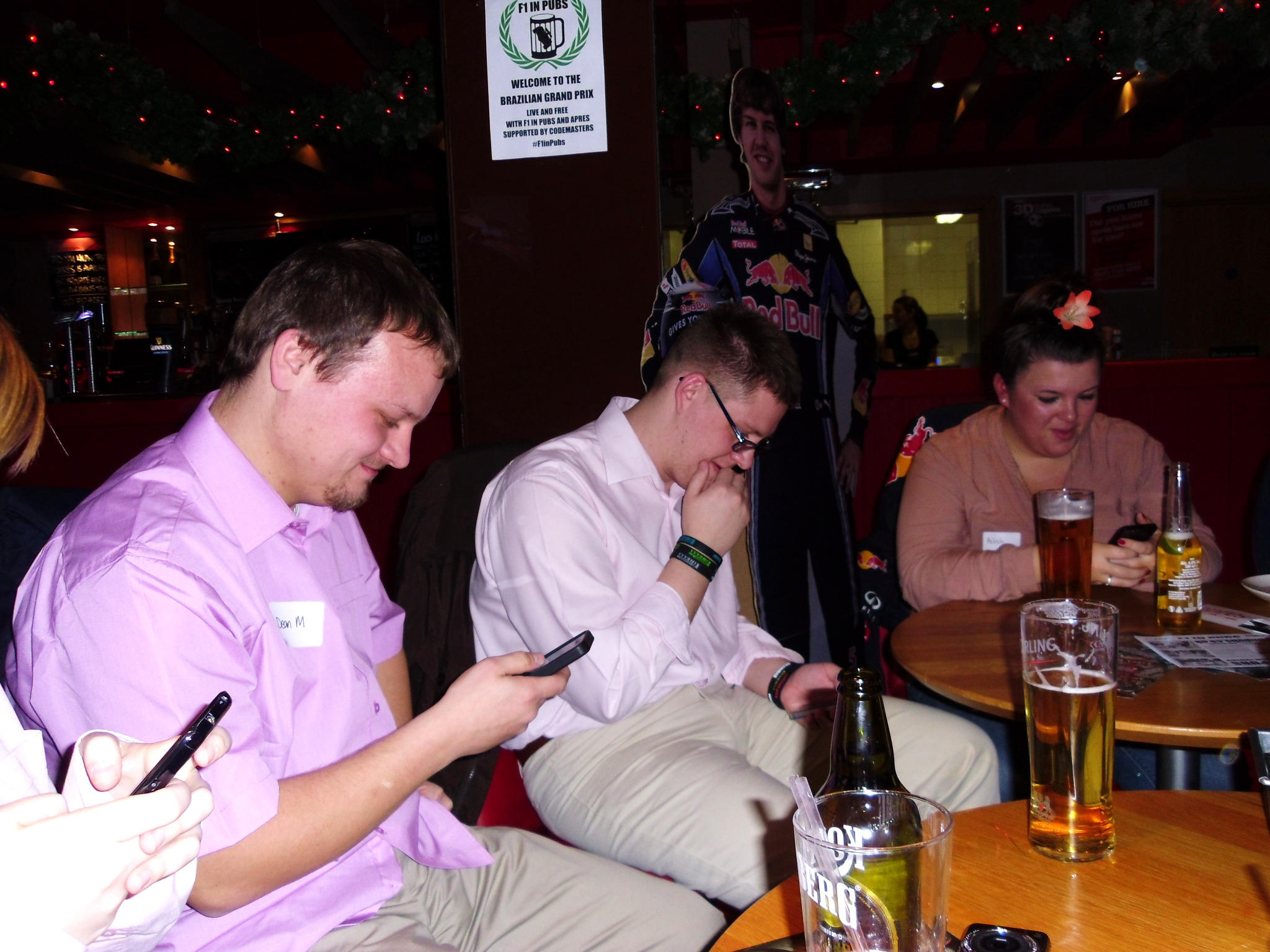 The vast majority of the #JBAS being social media gurus and superglued to their smartphones. Thanks to Vicky for the caption and photo.
Codemasters also come along for the ride. So we got to have a play of F1 2012 and the new F1 race stars
Dom predicted the winner well before the start.
Ailish with Bes. #F1SMUT as per.
But the best thing about F1 in pubs is quite simple.
I don't remember the Formula One races I sat by myself with.
I remember these ones.
For the people, the banter and above all the memories.
I mean who else can say they have sat in a pub, watched a Formula One race, whilst being John Button.
Except for John Button of course.
If you want to follow my ramblings on Twitter you can at
@squiffany
.
If you also want to badger Jenson, McLaren or Jess to get John Button on Twitter. You can do that too. But remember don't go too far because it could count towards a restraining order...